Our last post of an amazing year and an amazing 2 yr national tour, reaching over 20,000 audience
members and workshop participants with 25 performances and at least 75 workshops at 16 locations
in 8 states !
Heartfelt Pilomniya, Megwetch, Mahalo , Ka Na for all who helped us along this journey !
December 2011 Newsletter
November brought us to the end of an amazing two years of touring of "Of Bodies Of Elements" in Marty, South Dakota and Durango, Colorado last month, where over 1500 youth and community members participated in workshops and attended performances.In
Marty
, we were very honored by elder Germaine Tremmel from whom we had initiated the cultural protocol of asking permission to share our dances on Lakota/ Dakota land which has been kept alive with their songs and dances since the beginning of time. She gifted the company members with buffalo bone earrings and carved eagle feather necklaces and invited us to return and keep their youth happy.
In Durango, we held many workshops for a vast range of enthusiastic community members at the Southern Ute Cultural Center and on the campus of Fort Lewis College.
Read our latest review by Ellen Berkovitch from AdobeAirstream HERE.
!Thank You AdobeAirStream!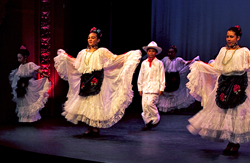 The following week, Rulan and dancer Daniel Arizmendi danced in a duet to support Jacoh Hernandez Cortes' Cuicacalli dance program at student concerts at the Brava Theater in San Francisco and the Ashkenaz Center in Berkeley. Congratulations Jacoh for a wonderful 4th year of "Tradicion, Movimiento y Pasion!"
(photo courtesy by Cuicacalli)
THIS MONTH

In early December, Director Tangen attends the National Performance Network conference in Tampa Florida.Winter holidays will be devoted to research, conceptualization, and fundraising for our proposed new work:

Walking the Edge of Water 

photo by Paulo T. Photography

Indigenous Guest Artists from Canada and New Zealand are applying for funding from their respective governments to join DANCING EARTH's ensemble for creation of the new production of 'Walking The Edge of Water" March 9-11, 2012 at the National Hispanic Cultural Center.

UPCOMING

The proposed new cycle of water dances have already received invitations for excerpt appearances and related community engagement workshops at sites including

Talking Stick Festival

in

Vancouver

in

February

and

Hemispheric Encuentro of Performance

and

Politics in Mexico City in March

, as well as artistic residencies for creative research and community engagement at

Humboldt State University

in

Arcata, UC Riverside

, and

Trent University

on

Ontario

in

2012

.

These prestigious international invitations require support for travel costs; Please consider making a donation to help bring the dance embodiment of powerful messaging about our most precious  resource to our global community!

Click here for Donation Form
photo by Paulo T. Photography

---

GRATITUDE

As the year closes, we hold gratitude in our hearts for all those who have made the amazing

journey of 

"Of Bodies of Elements"

possible. Since inception in January 2010, we have given 25 performances in 16 locations, 8 states, over 50 related workshops, and reached well over

18,000

audience members and workshop participants!We acknowledge all the dancers who helped create the material since 2004, including Alejandro Meraz, Anthony Collins, Quetzal Guerrero, Kalani Queypo, Jessica Marisol Allen, Lawrence Santiago, Raoul Trujlllo, Edgar Soto, Sarracina Littlebird, Nichole Salazar, Gina Pacaldo, Serena Rascon, Deollo Johnson, Eric Lopez, Eagle Young, Ehren Natay, Erika Archer, Amy Becenti, Jacoh Hernandez Cortes, Alyxis Trujillo, Jose Meraz, Ariane Estrada, Atsina Allen, Rulan Harjo, and Camila Cortes.

Your movements have brought collective dreams to life!

We also thank the generous artists including choreographer Raoul Trujillo; aerial coaches Deirdre Morris and Consuelo Wind; Tech Directors Deirdre Morris and Ron Mier;Production Managers Alejandro Quintana and Paulo Tavares; composers Robbie Robertson, Olivia Tailfeathers, Ulali, Alejandro Aguerre, Barrett Martin, Quetzal Guerrero, Robert Mirabal; costume designers Consuelo Wind, "Marama" Tracey Lloyd and Joseph Moncado; and photographers Paulo Tavares, Jennifer Esperanza, Elizabeth Opalenik, Anthony Collins, Alejandro Quintana, AMT Productions, Iscah Trujillo, Kate Russell, Tanana Rivera and Ernest Trujillo.

---

DANCING EARTH expresses gratitude for support fromthe generosity of our Membership Circle including:

LEADERS

Bioneers Moonrise Grant
New Mexico McCune Foundation
NEA Challenge America
National Dance Project
Zellerbach Family Fund
Yocha Dehe Wintun Nation
Margaret Schink
Diane Karp
Lauren Embrey

SPONSORS
La Fonda On the Plaza
El FarolElaine Reuben
Carrie Stiles
Dorothy Abbott
Cynda Arsenault

FRIENDS
Lynne Buchen
Yvonne Montoya
Jacqueline Shea Murphy
Susanna Carlisle and Bruce Hamilton
Peter Mattair
Anonymous
Garth Clark
Gwen Wells
La Posada of Santa Fe
photo by Paulo T. Photography

---

"Of Bodies Of Elements " related educational workshops developed by in part by Ms. Tangen at Stanford University's Institute for Diversity in the Arts RACE AND ENVIRONMENT initiative; and "INVOKATION" community ritual exercises are developed with support provided by the Indigenous Contemporary Expressive  Arts Program, National Museum of American Indian.We also thank Anemone and the Mars family (who shared the Sunflower dance concept of the Naragansett First Nation with us), Alice Loy and Tom Aageson of Global Centre for Cultural Entrereneurship, Professor Jacqueline Shea Murphy of UC Riverside, Janet Eigner, Michael Reed, Asphalt Apache Designs, Diane Karp and Michelle LaFlamme Childs of SFAI, Patsy Phillips and Sallie Wesaw at MoCNA, Roseta Santiago, Denise Wallace, Joan Lombardi, Julien McRoberts, Anthony Hassett and Guy at THE magazine, Jennifer Noyer, Rita Feliciano and SF Bay Guardian, Brent Michael Davids, Giacomo Zarafano, Freda and David at El Farol, Dee Martinez, Julie Brette Adams and NM Dance Coalition, Joaquin Newman of Forrealism, Aysen New, Norma Diala, Sione Tangen, Staci Golar, Erica Ayala, Erika Archer, Garth Clark, Jayne Nordstrom and the Wheelwright Museum, Elisa Keir, Graciela Gonzales, Amy Christian and Wise Fool NM, Yolanda Trujillo, Pasha Hogan, Barbara Z,  Jodie Verenya Franco, Alexis Brown, Tracy Collins, Hyda Maria, Amy Bertucci, Gwen Wells, Lisa Estrada, Angela Culbertson, Jack Rosser, Jhane Myers, Gisela Genchow, Lee Miller, Roxxi O'Hara, Rae Walker, Marion Wasserman at Elemental Designs, Valerie Ingram, Kathryn Mark, David and Freda at El Farol, Nina, Cara and Peter at Bioneers, Susanna and Primitive Makeup, College of Santa Fe's Paula Amanda, Mykel Diaz, Janey Potts, Angela Culbertson, Adam McKinney and students of New Mexico School For the Arts, Railyard Performance Center, Yoga Moves, Martine Amenda, BJ Davis, Legends Gallery, Kiva Gallery, Blue Rain Gallery, Lensic Theater's Bob Martin, Marj Neset of VSA N4th Art Center; filmmakers Jonathan Sims, Kokopele Video, and Craig Hansen Video Professor Mary-Jean Cowell and the dance department of Washington University on which some sections were workshopped. And, thanks to Moving People Dance, CENTER Santa Fe, Wise Fool New Mexico, CellSpace of San Francisco, Aspen Santa Fe Ballet, and Santa Fe Art Institute for gracious donation of rehearsal space!

A special thanks to all the community members who joined our workshops this year, in California (San Francisco, Sherman Indian School, Riverside, Marin, Arcata), Montana, Canada, New Mexico (Espanola, Albuquerque and Santa Fe), South Dakota and Durango Colorado!

---

The 2010 creation of "Of Bodies of Elements" was made possible by the MetLife Community Connections Fund of the National Dance Project, a program administered by the New England Foundation for the Arts. Major support for the National Dance Project is also provided by the Doris Duke Charitable Foundation with additional support from the Ford Foundation and the Andrew W. Mellon Foundation.  Community partnership was led by Santa Fe Art Institute, with Global Center for Cultural Entrepreneurship, VSA North Fourth Art Center's Global Dance Festival and Two Worlds Festival, National Dance Institute of New Mexico, Santa Fe Opera's Pueblo Opera Program, National Hispanic Cultural Center, College of Santa Fe, Southwestern Association for Indian Art, Moving People/Santa Fe Dance Festival, Wise Fool New Mexico, No Reservations Film Productions,  Institute of American Indian Art's College and Museum of Native Contemporary Art.

Wishing all the extended circle of DANCING EARTH a year of health, happiness, gratitude and creativity!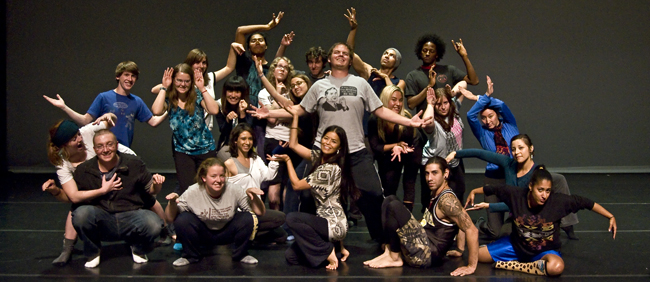 photo by Paulo T. Photography