HEADING TO THE LAND OF

MIDNIGHT

SUN!!!
photo © Pam Taylor Photography
HEADING TO THE LAND OF

MIDNIGHT

SUN!!!
This JULY Dancing Earth fulfills a long held dream, to share our work in NORWAY (one of DirectorRulan's ancestral homelands!) with cultural exchange and collaboration with Sami Indigenous peoples of  the subarctic circle, for the RIDDU RIDDU Festival.
We are thrilled highlight our first Sami collaborator: Sarakka Gaup, of Giron Sámi Teáhter (director Asa Simma), an actress and activist who attended the Indigenous gatherings at Climate Change Summit in Paris – standing together connected by a long red line, that have inspired part of our:
We thank Rita Mienna, Festival coordinator of Riddu Riddu and liason Maria Firmino Castillo, as well as the US Embassy whose support allows us to represent the United States of America at this powerful festival of international Indigenous peoples, read more at www.riddu.no.
This beautiful image is of Sami land, shared by  extraordinary
Joiker/Singer Maret Sofie Jannok
who will be singing our welcoming song for our opening performance, and  as is the headliner for the Festival! She is also seen here at Climate Change Protests in Paris, amongst the Indigenous women leaders including Casey Horinek Camp and Pennie Opal Plant, whose voices are woven into the soundscape of:
To prepare for the journey north, in June we will be in residence the beautiful Academy for Love of Learning in New Mexico for Indigenous womens leadership and creative intensive, and we thank them for support, as well as USArtists International.
Our 2016 Summer Institute is in residency for one week this August at Ghost Ranch Education and Retreat Center, Apache territory and the former home of artist Georgia O Keefe.
The Institute participants are cultural, ecological and experimental artists from Aotearoa, Colorado, California, and New Mexico representing indigenous heritage including including Maori, Ilocano/Kamampangal/Bikol, Dine, Chicana, Yaqui/Yoeme, Miq'mac, Hopi, Dine, Okay Owingeh, Hawaii, Apache, Seneca, and Creek converge for intensive indigenous exchanges and practices. We'll begin with Pueblo women elders' cultural welcoming and continue with moccasin-making moccasinsor huaraches, land dance, and creative culturally-rooted collaboration.
On
Aug 20-21
we'll descend from the canyon to Santa Fe during the historic Indian Market, to 'occupy' the
Center for Contemporary Arts
.
There, we will emerge from Cannupa Luger's large scale art installation in an interdisciplinary activation and animation of the space.
5:30pm
Performance,
by invitation only,
including repertory from our
Norway
tour!
7-8 pm
Public Performance
8-9pm
Dance
party with DJ!
Dance
Artists including © Paulo T. Photography / © Baltazar Dasalla / © KuuKu Black / © David K.
And, on
Sept 9th
, presented by Ft. Lewis Concert Hall in Durango CO,
DANCING
EARTH will share the public premiere of full length eco production of … SEEDS.
---
ARE YOU
INSPIRED?
Our first tour to

Norway

still needs funds
to cover costs of meals and other expenses for our Cast of Six (6)!We
deeply appreciate any support
you feel moved to offer; please contribute your good energy and resources to this incredible tour!
SPECIAL OPPORTUNITY:
 The first ten donors of $25 or more will receive a limited edition


DANCING

EARTH CALENDAR!

Our last few months were filled with motion as Spring burst into bloom
Behold the long awaited
Dance
Research Journal is published by Congress of Research in
Dance
, with guest editor Professor Jacqueline Shea Murphy. Director
Rulan
contributing an article , and
Dancing
Earth is honored to be on the cover, and to have our work described in the essays of Maria Firmino Castillo, Jacqueline Shea Murphy and Tria Andrews. Other essays written by esteemed colleagues Daystar Rosalie Jones, Rosy Simas, Tanya Lukin-Linklater, Jack Gray. Emily Johnson, Sam Mitchell with Julie Burelle, Mique'l Dangeli, Tria Wakpa Blu, Karyn Recollet, Marrie Mumford and Neil Maclean …
IN MOTION IN LANDS OF AKIMEL O'ODHAM, ZUNI, HOPI, DINE
aka ARIZONA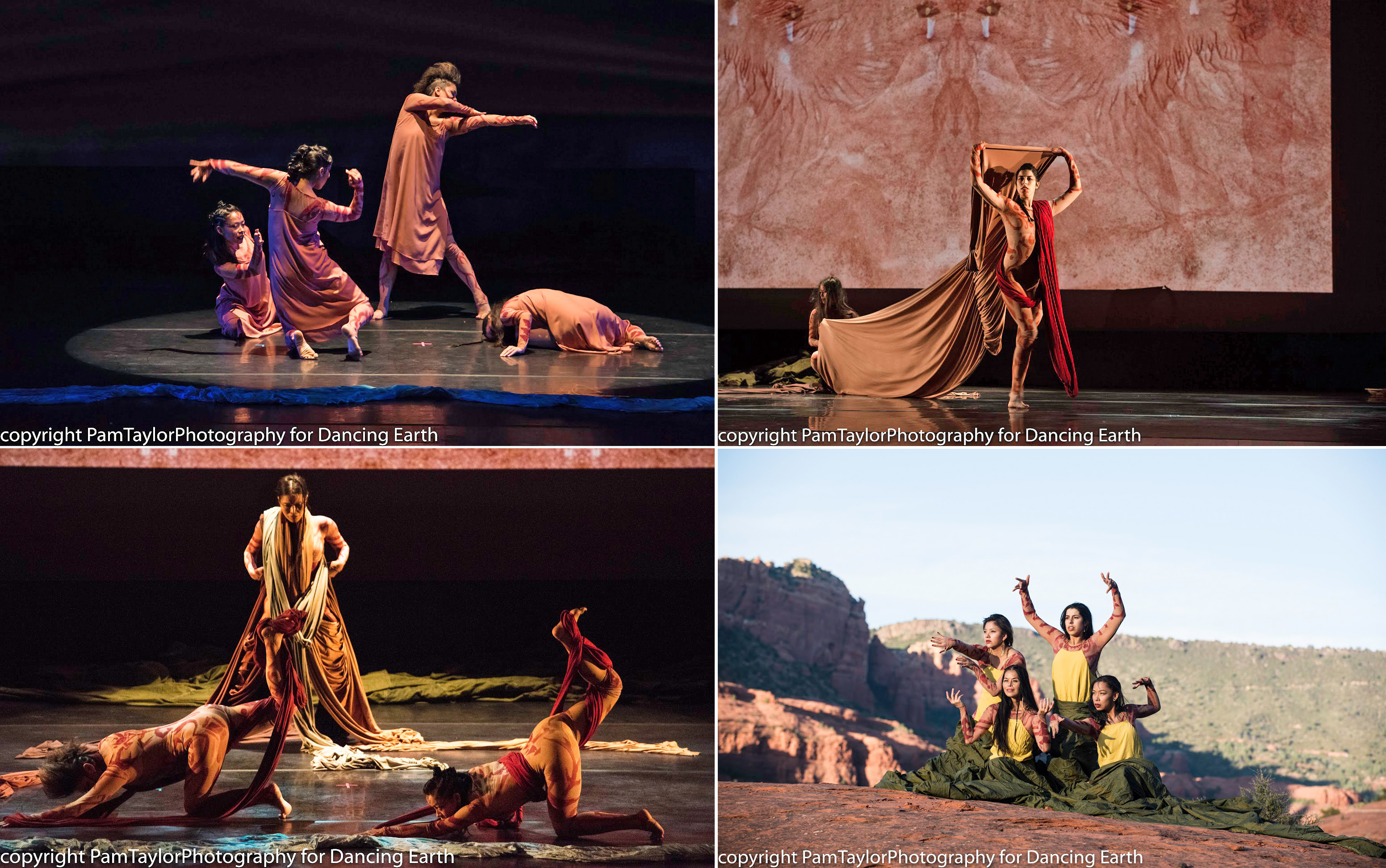 Here is what our audiences and workshop participants
had to say about this amazing Tour to 16 Sites!
"I would like

Dancing

Earth to stay at our school for our children to enjoy.""The performance was emotional, almost like you could feel the

dance

."
"I really liked the entire show, the tradition and the culture"
"It was very touching, very much needed,
reminder to ourselves and community members to honor
mother earth and our women, the barriers of life. Ahee'hee!"
"I loved the performance. I am inspired to dance!"
Along with performance, we also offered an Educational Guide for 750 students K-12, which combined images, descriptions and suggestions for experiential activities related to each

dance


(such as seed ball making recipe to go with

dance

about corn beans squash and sunflower)!
Our special opening night preview was for special invited guests, with over 100 inyter-tribal community members, friends, family, and local

dance

students met duriing

Rulan

's articipation in April's American College

Dance

Conference. We  thank  Michael Reed for invitation, Melissa Vuleticj for coordination, and Lisa Adamsen Gammage Hall Tech Director, and all the amazing tech crew including brilliant lighting designer Stacey Alston and our costumer Emily.

Thank you to special guest artists Leatrice Lewis (Zuni) and Uqualla/Uji Gwala (Havasupai), who were not only our culture advisors but became lead

dancers

in opening duet! (image on Right by © Tim Trumble courtesy of ASU Gammage Hall).
Special THANK YOUS / ELAKWA / A'XEE-HE / PILOMNIYA / MIGWECH / MVTO/ GRACIAS/ go out to our amazing circle of support, especially:
    – Lee Ann Hunt for her support of youth
community engagement in Gallup NM!
– All attendees of our open rehearsal who made kind donations!
– Pam Taylor ( whose wonderful photos are featured above and as the lead image), and Winnie                    Meunch for generous support in Sedona!
– To Kati & Friends of Flagstaff Earth Day event, Angela Rosenkranz at MCC, Susanna Keita at GCU!
– Joe Dean of Lumenscapes for projector assistance!
– Teahonna and Staci for coordination of all Native community sites!
– Tony Skrelunas of Grand Canyon Trust for his vision and belief in this project!
---

IN MANAHATTA, LENAPEHOKING
aka NEW YORK CITY
Rulan

goes to NYC to meet with cohorts of A Blade Of Grass 2016Fellowship. She was greeted by Lenape representatives Joe Baker and Hadrien Coumans who bestowed her with an eagle feather – the highest honor, and noted that ABOG is perhaps the most powerful and progressive  foundation because it acknowledges artists as the most potent catalysts for social change. Read about their extraordinary scope of vision – art brigades, quantum futurism, underground workshops, freedom chambers, re-entry think tank, radical mentorship, experimental orchards, trash alchemy and more!(

Rulan

photo by © Daniel Quat Photography)
Rulan

's visit coincided with the culminating performance at the end of three month residency atNYU's Asian Pacific Islander Institute by our dear friend and  acclaimed choreographer/scholarJack Gray (Ngati Porou, Ngapuhi, Te Rarawa, Ngati Kahungunu –  the only artist honored to represent TOI MAORI), with many indigenous colleagues present to perform or celebrate, and many activities throughout residency including an Indigenous

Dance

Forum, which can be Heard HERE.
---
  
IN MOTION IN Ogap'oge
aka SANTA FE
Leaving Santa Fe this summer are two amazing arts leaders : Adam McKinney

Dance

Dept Chair of NMSA and Daniel Banks Chair of Perf Arts at IAIA; arts students here have flourished under their care, and we wish them the very best with their future ventures. (photo courtesy, Santa Fe Radio Cafe)
---

IN MOTION IN MNI SOTA MAKOCHE
aka MINNESOTA
In
May
: A week of community engagement in prep for Indigenous
Dance
Festival in March 2017,
Thank Rosy and Dayna and staff of Ordway!
---
IN MOTION IN YELAMU
aka
SAN FRANCISCO
In
May
: Back home for family time and Bay Area Workshops,
and planning for Fall concert with Cuicacalli!San Francisco, Cuicacalli's Ariane Cortes and her student mariachi band leads the front of the parade shown here alongside Dolores Huerta (activist alongside Cesar Chavez for labor and civil rights, last year they made history!)
---
IN MOTION IN LANDS OF THE UTE DINE APACHE
aka COLORADO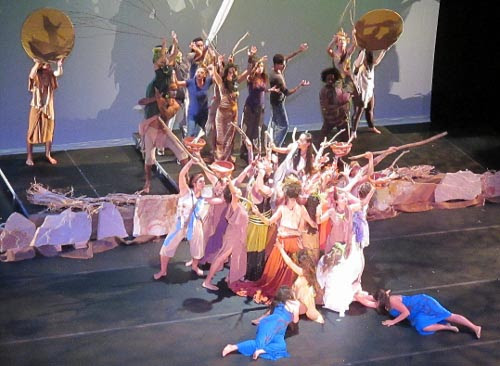 In
May
: a return to  Durango for a week of  communityengagement meetings for residency.
CLICK HERE
for a review of 2014 production involving 60 students and community members, written by
Leslie Arbogast
,
"SEED was a fascinating tribute to activism in the spirit of returning to Indigenous food systems, with a goal of improving human health and the physical condition of our planet,

Rulan

Tangen and

Dancing

Earth have risen to the challenge."
photo © & courtesy of Courtesy Of The Company
---
IN MOTION in TEXAS
In
June
, Indigenous
dance
panel at
Dance
USA conference in Austin, led by
Rosy Simas
(of
Rosy Simas

Dance
), with Andre Bouchard (Director of WALRUS ARTS MANAGEMENT, a forthcoming new talents booking agency for Indigenous music and
dance
). Also representing issued for Latino choreographers in Southwest is Yvonne Montoya of Safos
Dance
Theater in Tuscon AZ.
---
IN MOTION in
ENGLAND
Frank Waln, S
ampson Brothers and Tanaya Winder on tour!
We dedicate this newsletter to the passing of a young hoopdancer who touched many hearts, who recent passing along to the star road of ancestors and luminaries – including David Bowie and Prince. To read more about the amazing life and spirit of Tino Rivera, and with loving condolences and respect for his family, please read this Article HERE.
GRATITUDE
We are so grateful to our nationwide communities of supporters who enrich us with stories, food, home hosting, artistic collaborations on costume and film, donations of equipment
(thanks Jo Dean for the projector!)
, discounts on rehearsal space
(Railyard Performance Center & Dragon Rising)
individual time and energy. And we thank our visionary funders and in kind supporter institutions:
We are a Member of Intersection for the Arts, providing fiscal sponsorship, networking and consulting for artists.
www.theintersection.org


New Mexico

Dance

Coalition
Especially the friendship, mentorship, inspiration  teamwork of Lee, Julie & Myra.

Support from Jessica & Tim Harjo
Indigenous Biocultural Exchange Fund
www.

DANCING

EARTH .org